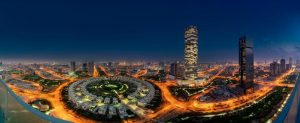 Dubai's strategic location serves as a gateway between Europe, Asia, and Africa. So the city's connectivity, modern infrastructure, and world-class amenities make it an attractive destination for business and leisure, driving demand for properties. 
In this blog I talk through the reasons why you should consider investing in properties located in the rapidly developing residential area of Jumeirah Village Circle (JVC), Dubai. 
Location

: JVC is located in the heart of Dubai, a sought-after location for both buyers and tenants. JVC is situated in close proximity to major transportation routes, including Sheikh Zayed Road, Al Khail Road, and Hessa Street. This allows for easy access to other areas of Dubai: 15 minutes to Dubai Marina, 17 minutes to Downtown Dubai, and 24 minutes to Dubai International Airport. JVC is also situated close to Dubai Miracle Garden, Dubai Butterfly Garden, Wild Wadi Waterpark, Skydive Dubai and Mall of the Emirates. All of which are attractive to potential residents.

Infrastructure

: JVC is known for its well-planned infrastructure and amenities. The area offers a mix of residential properties, including villas, townhouses, and apartments, catering to different budget ranges. There is a shopping centre, Circle Mall, which has an array of stores including a supermarket. In JVC there are also schools and nurseries, numerous parks, playgrounds and restaurants for residents to enjoy. 

Affordability

: Compared to some of the more established neighborhoods in Dubai, properties in JVC tend to be more affordable. This makes it an attractive option for first-time buyers and investors looking for a good return on investment. We have properties such as Luna22 starting from only 629,918 AED, which offers a payment plan, making it affordable for you to be able to invest in a luxury brand new home.

Rental Demand

: Dubai has a strong rental market, and JVC is no exception. The area appeals to a wide range of tenants, including families and young professionals. The affordability, amenities, and location make it a popular choice for individuals seeking rental properties. As of May 2023, according to the Dubai Land Department,

JVC was listed as one of the top five performing areas

– this demonstrates a real demand for properties in this location.

Return on Investment (ROI)

: Investing in properties in JVC through us can offer potential

returns of 8-10%

. The combination of affordable prices, rental demand, and the overall growth of Dubai's real estate market contribute to the potential for appreciation in property value. There were also

3,310 sales transactions in JVC in Q1 2023

according to Dubai Land Department, this is the highest in Dubai, showing the investor demand and long term potential. 
Choosing a Property
We handpick projects from award-winning developers such as EMAAR, Nakheel, Sobha, Ellington, MAG, Select Group, Omniyat, FIVE and more, to ensure that we have a selection of premium located luxury high-spec properties. These properties offer state-of-the-art amenities typically including a swimming pool, gym, children's play area, gardens, valet, communal lounge area and more.
By offering beautifully designed developments it allows our investors to purchase a property which stands out in the market place and attracts high quality, premium tenants.
Take a look at some of our properties in JVC, including Luma22, Hadley Heights, FIVE JVC, Waves Phase 2, and many more. 
See all of our properties located in Dubai here: https://masarcapital.ae/property-portfolio/ 
At Masar Capital we can help you from start to finish, with choosing an apartment, helping with the process including property furnishing, finance and management, enabling investing from overseas stress free and profitable.
For more information get in touch today: https://masarcapital.ae/ceo-call-dubai-investment/
Author:
Nick Hyland
CEO
Masar Capital