The answer is yes! I'll tell you why…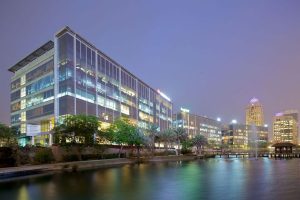 Studio City is situated in a prime location, the heart of Dubai's entertainment and media production zone. The city was launched by TECOM Investments in 2005, to cater to the needs of media production companies, housing its crew. So, the city has definitely been an appealing area for professionals in the creative industry. 
Studio City is strategically located next to Al Qudra Road D63, offering easy access to many residential areas in Dubai. There is also a metro station, Dubai Internet City Metro Station, ten minutes outside of Studio City, and a local bus service. The city is only 20 minutes from Mall of the Emirates and First Avenue Mall in Motor City is close by. The mall has over 50 retail shops, 15 food and beverage outlets and a Park Inn by Radisson hotel. Residents also have a great selection of restaurants, supermarkets, shops, and schools to choose from near-by.
Typically in Studio City you will see a mix of mid-rise and high-rise buildings and beautiful community parks, which would indicate it is a family-friendly environment and relaxed atmosphere. The city is also a pet-friendly community where you'll see many residents taking their dogs out for a walk. 
Many of the apartments within these new developments will be decorated with tasteful neutral tones to create a sense of elegance. Developers usually design these homes to offer open plan living spaces, so residents can comfortably entertain friends and family. They fit branded appliances in the kitchens, provide beautiful bathrooms with walk-in showers, spacious balconies and allocated parking. All of these factors are highly attractive as it means residents or tenants can move straight into the apartment once complete.
What is so great about Dubai Studio City is the value for money when purchasing a property. You can buy a freehold luxury, fully kitted, high-spec studio for only 455,000 AED / £100,000 / $123,851. Developers also tend to offer payment plans making it more affordable to invest in a brand new property.
There is currently a projected 8-10% return on investment and Knight Frank Forecast predicts a +13.5% property value increase this year. So, now really is a good time to start thinking about investing in Studio City.
Choosing a property
We handpick projects from award-winning developers such as EMAAR, Nakheel, Sobha, Ellington, MAG, Select Group, Omniyat, FIVE and more, to ensure that we have a selection of premium located luxury high-spec properties. These properties offer state-of-the-art amenities typically including a swimming pool, gym, children's play area, gardens, valet, communal lounge area and more.
By offering beautifully designed developments it allows our investors to purchase a property which stands out in the market place and attracts high quality, premium tenants.
Take a look at some of our properties in Studio City including, Laya Heights, Laya Courtyard, Azizi Vista and more. 
See all of our properties located in Dubai here: https://masarcapital.ae/property-portfolio/ 
At Masar Capital we can help you from start to finish, with choosing an apartment, helping with the process including property furnishing, finance and management, enabling investing from overseas stress free and profitable.
For more information or to book in a call, get in touch today: https://masarcapital.ae/ceo-call-dubai-investment/
Author:
Nick Hyland
CEO
Masar Capital