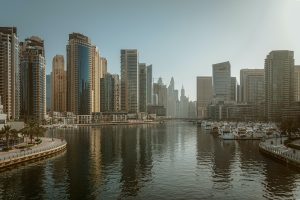 To put it simply…yes!
Dubai Land Department recently published that there has been an increase in property transactions, a surge in mortgages and more new projects listed in Q2 2023 than ever before. Here are some of the headline stats:
Property prices per sq. ft increased by: 

16% in Q2 2023 vs. Q2 2022, 2.6% in May vs. April and 7.1% in June vs. May.

38% surge in mortgage transactions vs. Q2 2022.

Almost 6,000 properties were completed.

84 new projects registered, the heights since Q1 2014.

Apartment transactions increased by 57% compared to the same period last year, indicating a strong demand for apartments in Dubai.

The total value of townhouse and villa properties sold decreased by 10%, mainly due to the decline in off-plan villa transactions. However, apartment sales increased by 5% in the same period.

Dubai Production City experienced the highest growth in apartment prices, with an increase of 23%. Living Legends and Al-Habtoor City followed with growth rates of 21% and 13%, respectively.

Jumeirah Islands witnessed the fastest growth in villa prices, with an increase of 13% and a year-on-year increase of 32%.

Numerous new real estate projects have been announced in Dubai, with over 34,000 units launched so far in the year, indicating an active and growing market.

Luxury property transactions increased by 3% on a quarterly basis and 50% year-on-year, indicating a strong demand for high-end properties in Dubai.

The rental market in Dubai faced challenges, with rising rental prices leading to more tenants choosing to renew their contracts instead of seeking new leases. 

The report also suggests that transactions reached 27,215 in Q2, with the total value of properties sold reaching 69.8 billion AED. 
Overall the demand for real estate has remained strong. The market saw a significant number of new projects being launched, indicating ongoing development and investment in the real estate sector.
Property Investment Advice
Book an initial 15 minute call with me to discuss any queries you have and how Masar Capital could help you. We'll also go through your investment objectives and key criteria. Budget, locations, property type, size, timeframes and return on investment targets.
We work with reputable developers such as EMAAR, Ellington, Omniyat, and Select Group, to offer our clients the best properties across Dubai. In our call we will discuss all the developers and locations we work with along with information on the process and security.
Get in touch today: https://masarcapital.ae/ceo-call-dubai-investment/
Author:
Nick Hyland
CEO
Masar Capital